Akita Inu Hozonkai (AKIHO)
 MORE INFO WWW.AKITAINUHOZONKAI.COM
Akita Inu Hozonkai (AKIHO) is the biggest organization for Akitas breeding in Japan with more than 30 000 registrated Akita dogs.
 
The goals of this organization is protect national treasure Akita and keep his beauty. Improve various elements, contribute to development of Akita culture Akity in Japan and contribute to development Akita breed abroad.
AKIHO was founded in 1927 by Shigeie Izumi, mayor of Odate at that times. Branches were founded in various regions between the years 1949 and 1960.  From the year 1951 takes place twice everyear national shows called Honbuten.
Residence of Akiho is located in Odate, in place of origin of an Akita dog. 
AKIHO has in this time 20 branches outside Japan.
CURRENT MANAGEMENT OF AKIHO:
From year 2017               – president: Takashi Endo
                                           - vice-president: Kosuke Kawakita, Yasutami Togashi
 
Member of AKIHO can be everyone. Year membership for new member is more or less 85 Euro, if you will continue the membership will be yearly more or less 70 Euro.
As AKIHO you will receive your membership card with yours membership number and by post you will receive every two months AKIHO bimothly (everything is send from Japan). As member you can compete in AKIHO show (in the whole world).
 
AKIHO shows in Europe – yearly are organized (mostly two times per year) show in Italian city names Turin. The highest title on the shows outside Japan is Tokuyuu. To this shows you can also enter your Akita  despite he has not AKIHO pedigree (you must come to show one day earlier/ early in the morning before show, pass successfully examination and then you will receive AKIHO nintei).  AKIHO nintei is number, which is allocated to each Akita, is force for two yeard and  empowering you to show your Akita on the show which are organized by AKIHO European Branch. Number AKIHO nintei IN ANY CASE doesnt mean that you have an AKITA with AKIHO pedigree, or that your Akita iw written in AKIHO breeding books. Is only number which warrant you to show your Akita on these shows.
AKIHO shows in Japan – in Japan are several AKIHO branches, which organize several times per year (mainly two times per year) their shows  ,,Heardquarters exhibitions" (the highest title is Tokuyuu). AKIHO organnize two times per year national show which is called Honbuten (the highest title is Meiyoshou = the highest title for Akita in the whole world), in December 2019 was held 141th  (nejvyšší ocenění Tokuyuu). AKIHO pořádá 2x do roka národní výstavu zvanou Honbuten (nejvyšší ocenění Meiyoshou = nejvyšší ocenění pro Akitu vůbec, v prosinci 2019 se uskutečnil již 141th grade of this show. First show is on May in Odate and the second is on December and place is each time different.
Photos of ALL Meiyoshou winner (Museum Akita Inu Hozonkai, Odate, Japan)
Between them is hanging also this photo of our dog Kouummaru Go Senshuu Takashihamasou
Kouummaru is 355th winner Meiyoshou (in all time history there are together until today 371 Meiyoshou winner)
BRIEF HISTORY OF MEIYOSHOU WINNERS
3 males (2x brindle, 1x red) & 1 female (1x red)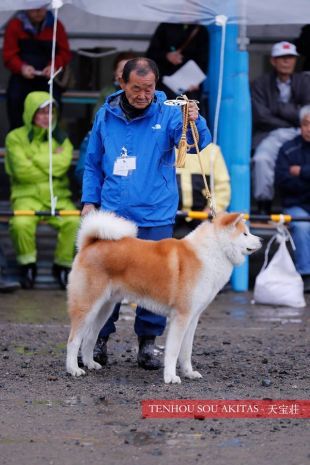 HASSHUU YAMATO GO KAWASAKI TAKAYAMA SOU
AKIHO 15-2825 (DOB 8.9.2015), red
KITA NO DAICHI GO MINATOMARU
AKIHO 15-2117 (DOB 10.5.2015), brindle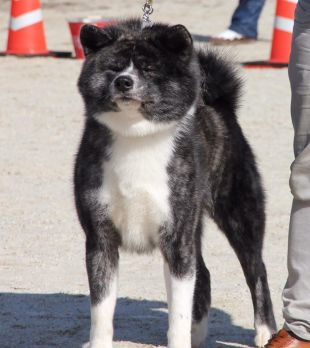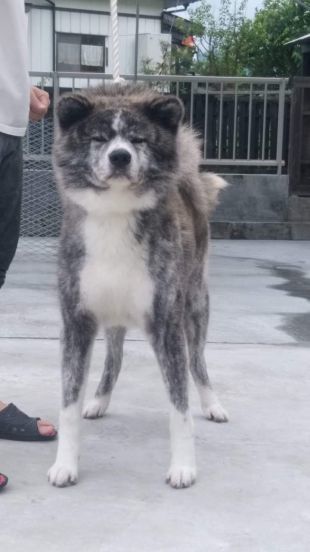 TSUNAICHI GO MEGUMI
AKIHO 14-2274 (DOB 9.9.2014), brindle
HANA MAIHIME GO GINZA TERUKA
AKIHO 15-1783 (DOB 25.2.2015), red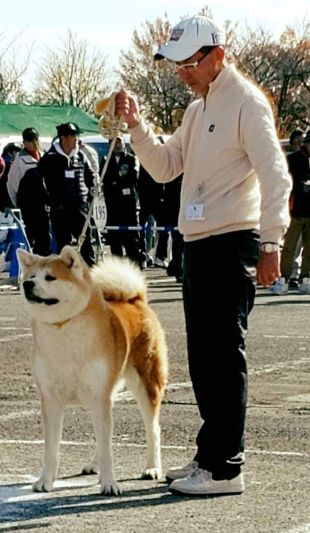 3 males (2x red, 1x brindle) & 1 female (1x red)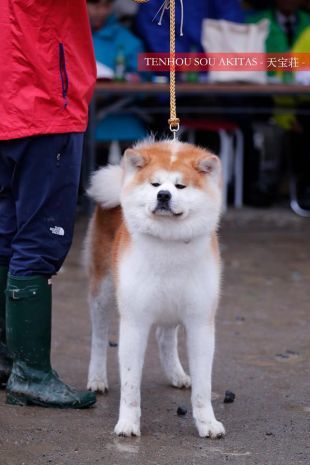 DAICHI GO HIGASHIOOHASHI
AKIHO 14-1968 (DOB 9.7.2014), red
JUN GO KURUME HIROSE
AKIHO 14-669 (DOB 5.1.2014), red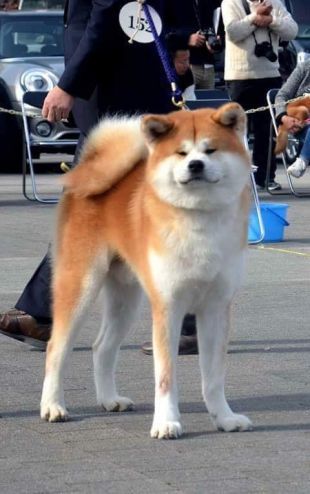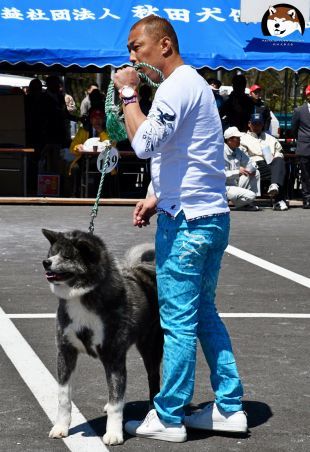 BURYUU GO MOGAMI HOSHIKAWA
AKIHO 14- 1898 (DOB 15.7.2014), brindle
URARA GO JYOUSHU SEKIGUCHI
AKIHO 14-2640 (DOB 24.11.2014), red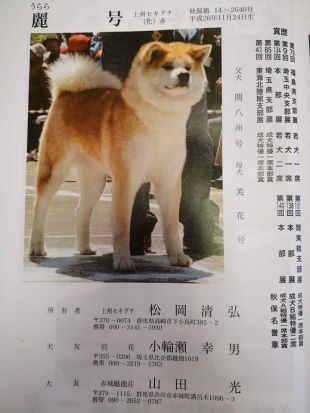 139. Honbuten (2.12.2018)
3 males (2x brindle, 1x red) & 3 females  (2x red, 1x brindle)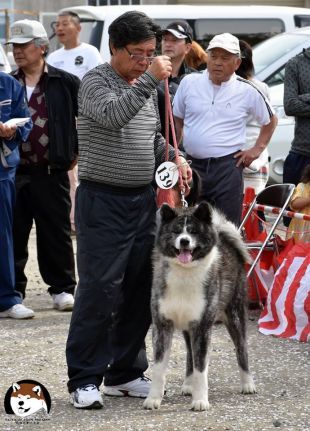 KAKUTORA GO MOGAMI HOSHIKAWA
AKIHO 14-1897 (DOBB 15.7.2014), brindle
BANKOMARU GO WAKAKUSAEN
AKIHO 14-1577 (DOB 6.5.2014), brindle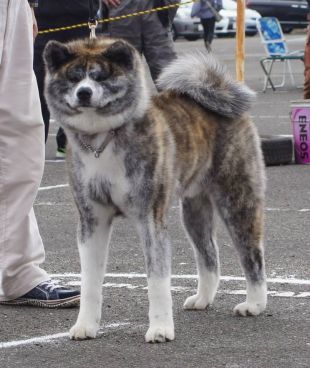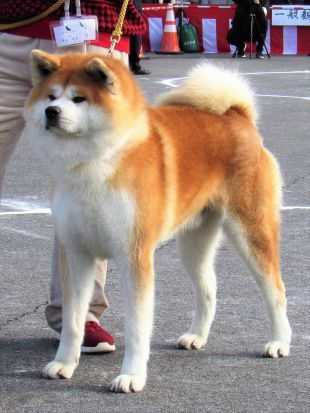 GATTSU GO KODAMASOU
AKIHO 13-392 (DOB 19.1.2013), red
HIMEKAORI GO SHIRAI
AKIHO 14-1037 (DOB 18.2.2014), red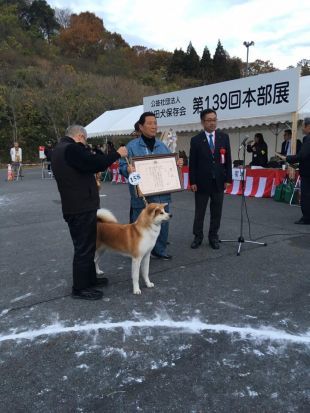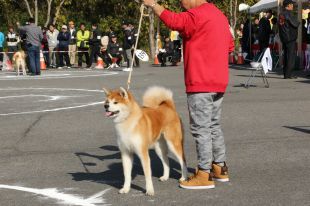 FUUAIKA GO SEIFUU KURABE
AKIHO 14-425 (DOB 2013), red
NIKO GO MINATOMARU
AKIHO 12-2417 (DOB 15.9.2012), brindle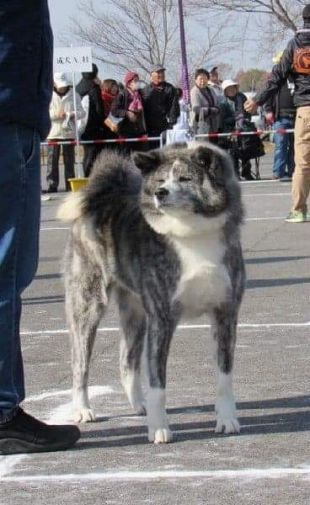 1 male (1x brindle) & 1 female (1x brindle)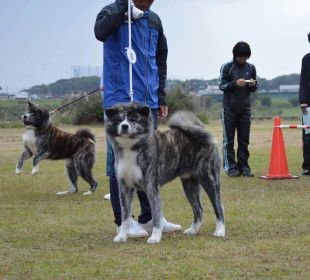 KOUUMMARU GO SENSHUU TAKASHIHAMASOU
AKIHO 13- 987 (DOB 20.2.2013), brindle
TERUTORA GO SUNADA KENSHA
AKIHO 13-3848 (DOB 2013), brindle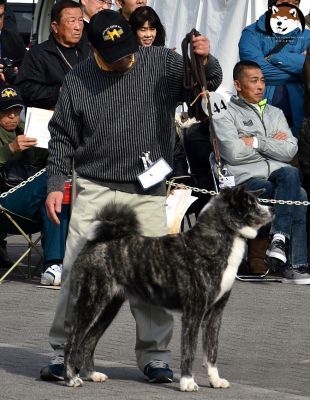 137. Honbuten (3.12.2017)
0 male
- 1 female (1x red)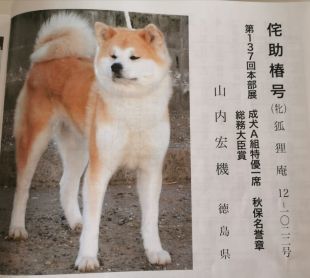 WABISUKETSUBAKI GO KUROBUCHI NAKATASOU
AKIHO 12-1022 (DOB 12.1.2012), red
1 male (1x red) & 2 female (1x brindle, 1x red)
TOUJOU GO SANUKI TSUTSUISOU
AKIHO 13-991 (DOB 15.2.2013), brindle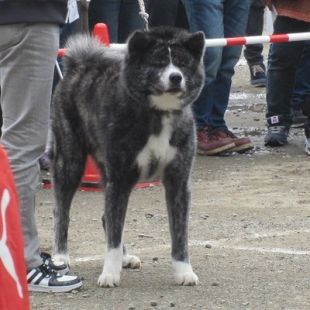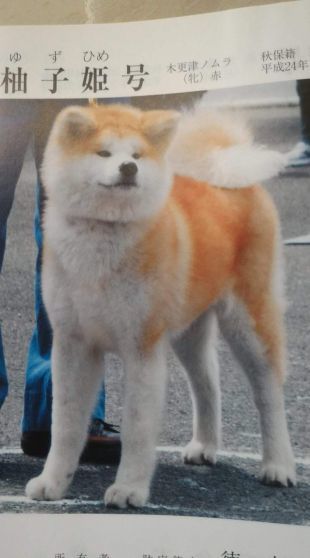 YUZUHIME GO KISARAZU NOMURA
AKIHO 13-52 (DOB 16.10.2012), red
ASUKA GO OUSHUU ICHIWASOU
AKIHO 13-602 (DOB 2013), brindle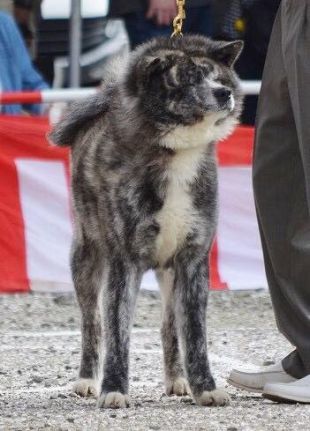 135. Honbuten (4.12.2016)
1 male (1x red) & 0 female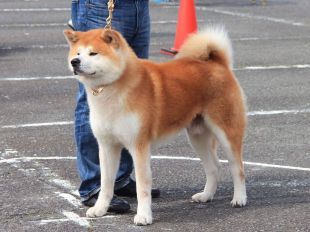 SHINZAN GO MAIMU
AKIHO 10-1087 (DOB 20.3.2010), red
133. Honbuten (6.12.2015)
1 male (1x red) & 3 female (2x red, 1x brindle)
TAIGA GO KOUYASAN HASHITANI
AKIHO 09-978 (DOB 25.4.2009), red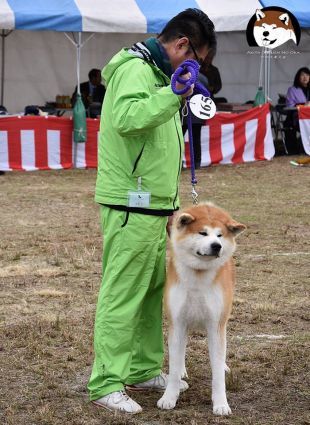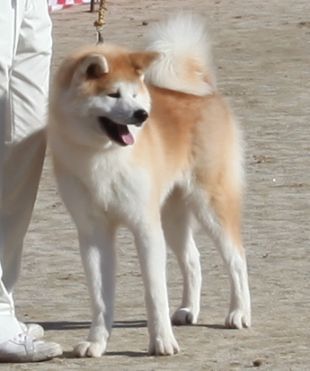 KOMACHI GO KAGA NISHIMURASOU
AKIHO 11-1164 (DOB 2011), red
FURENKA GO SHIRAI
AKIHO 11-433 (DOB 17.12.2010), brindle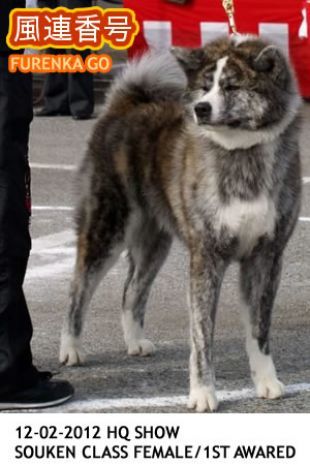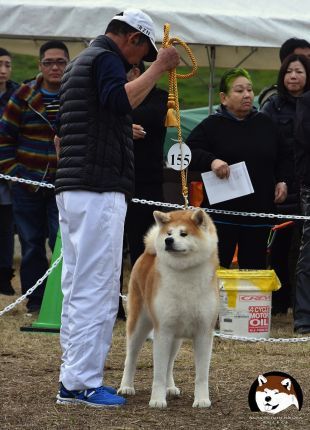 HARUMI GO KITAKYUU YOSHIKAWA
AKIHO 11-194 (DOB 30.10.2011), red
HISTORICKY PRVNÍ VÍTĚZ MEIYOSHO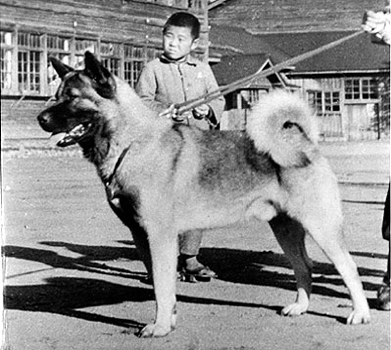 As AKIHO member you can really registered you kennel name in Japan and after fulfillment all rules (fotodocumentation, mother and father must have AKIHO pedigree,..), you can have your own offsprings with AKIHO pedigree. Charge of kennel name registration in AKIHO is more or less 40 Euro
How is AKIHO pedigree looking like: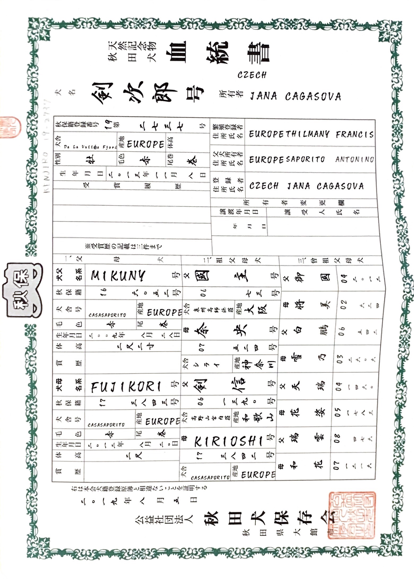 How is AKIHO membership card looking like: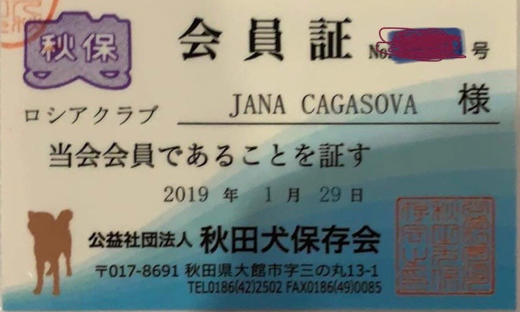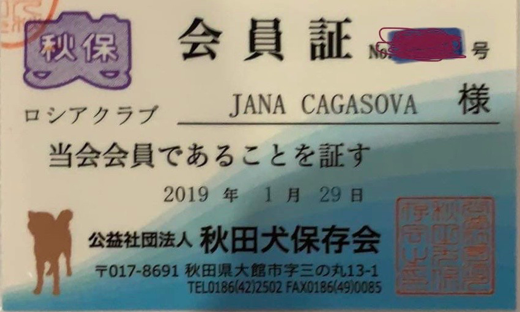 How is AKIHO kennel name registration looking like: