Ken'Ichi Ai kennel is based in the Czech Republic nearby Prague, licensed and regulated by FCI and AKIHO (in Japan).
We are dedicated breeders who specialize in raising top-quality, healthy and well-tempered Japanese Akita dogs. Our dogs come from Japan and have a long history of success in shows and competitions. We have carefully selected our breeding dogs from top-quality Japanese bloodlines, ensuring that our puppies inherit the best traits of the breed. Our breeding program focuses on producing puppies that are not only beautiful but also healthy and have a friendly and amazing temperament, making them ideal family companions.
At our kennel, we prioritize the health and well-being of our dogs. All of our dogs are genetically tested to ensure that they are free of any hereditary diseases or conditions. We believe that a healthy dog is a happy dog, and we make sure that our dogs receive the best possible care and attention.
We take great pride in the success of our dogs in dog shows and competitions. Our puppies have won numerous awards and titles, proving that our breeding program produces top-quality dogs that excel in the show ring. We believe that the success of our dogs in shows is a testament to our dedication and passion for this breed.
Our dogs also have amazing temperaments. They are friendly, affectionate, and loyal companions who make wonderful family pets. We take great pride in socializing our puppies from a young age, so they are well-adjusted and confident around people and other animals.
We are passionate about breeding Japanese Akita dogs and helping them find loving forever homes. Our puppies are raised in a loving and nurturing environment, and we work hard to match each puppy with the perfect family.
At Ken'ichi Ai Kennel, we believe that the promotion of the Japanese Akita breed is crucial. We work closely with our clients to educate them about the breed and provide them with the necessary information to ensure that their new puppy has a happy and healthy life. We believe that responsible breeding practices and proper care of dogs are essential to promoting and preserving the Japanese Akita breed.
If you are looking for a top-quality Japanese Akita puppy, look no further than Ken'ichi Ai Kennel. Our commitment to quality, experience, personalized approach, ongoing support, and ethics make us the best choice for your new furry companion.
To breed the healthiest, most vibrant puppies possible, with a placid temperament, lovely nature and the instinctive ability to become loyal and faithful companions. Our wish is for our puppies to be the perfect addition for families.
We DNA & health & genetic test our parents as part of our diligent surveillance to ensure we keep the incidence of problems in our puppies to an absolute minimum.
All of us puppies are registered in Japan and have AKIHO pedigree. All of our dogs are imported from the most advanced breeding countries for Akita breed and in last years wew import dogs strictly from Japan. Our puppies are living with wonderful families from all over the world (USA, Canada, Czech, Slovenia, Austria, Germany, Swiss, Findland, Poland, Philipines, Chile, Mexiko, Belgium, Hungary,..)
We ONLY breed Akitas which are health tested & all of us Akitas are excellent show dogs (MEIYOSHOU winner, TOKUYUU winners, HONBUSHOU winner, Japanese, Austria, Czech, Slovak, Swiss, Polish, Hungarian, Italian, Slovenia, Macedonia, Montenegro, Romania, Kosova, Albania champions, grandchampions and junior champions, Interchampions - C.I.B., multiple BOB winners, Cruft's qualificated, multiple BIS, JBIS & BIG, JBIG placements and so on,..)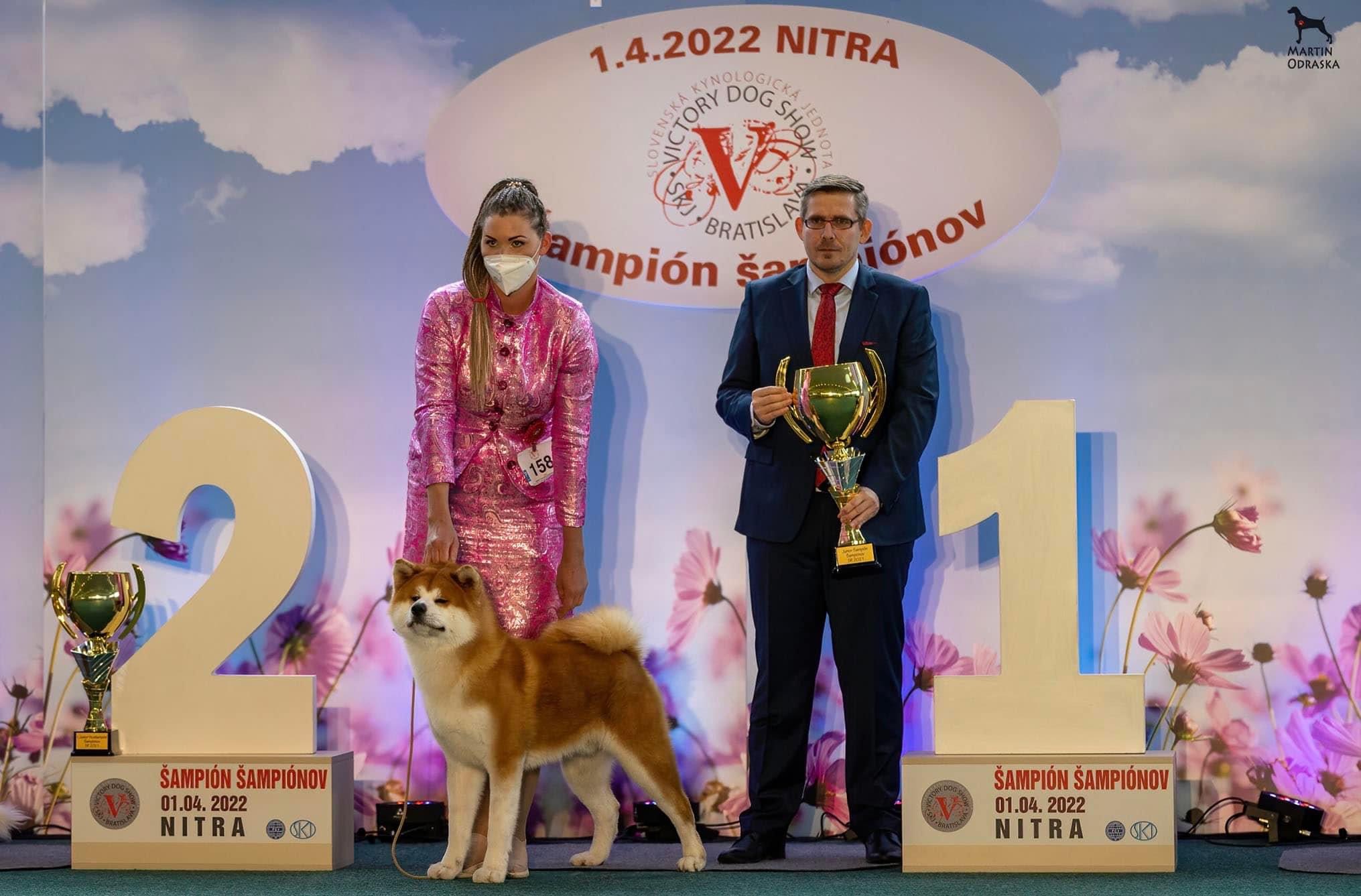 Akita that changed the world
As first Akita in history of the whole world we won first place on Champion of Champions show with great Gyokurin Go Oodate Sannomarusou. He won 1st place JUNIOR BEST IN SHOW CHAMPION OF CHAMPIONS.We are extremely grateful and we really appreciate that it was we who managed to rewrite history by winning such a prestigious competition.
We accept reservation for puppies during all year & we offer the possibility to use our stud dogs to aproved females.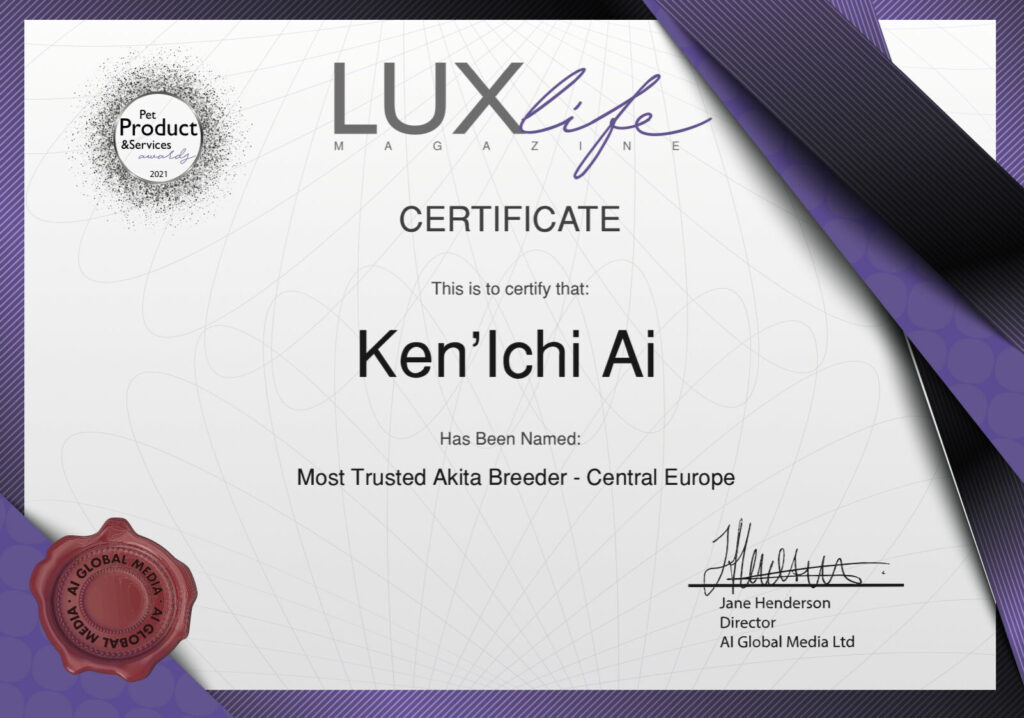 We are incredibly happy that our effort were highly rewarded.
Our Ken'Ichi Ai kennel was nominated (as first kennel from Czech republic in the whole history!) for Pet Products & Services Awards (United Kingdom) and we were awarded as
! MOST TRUSTED AKITA BREEDER - CENTRAL EUROPE !
Thank you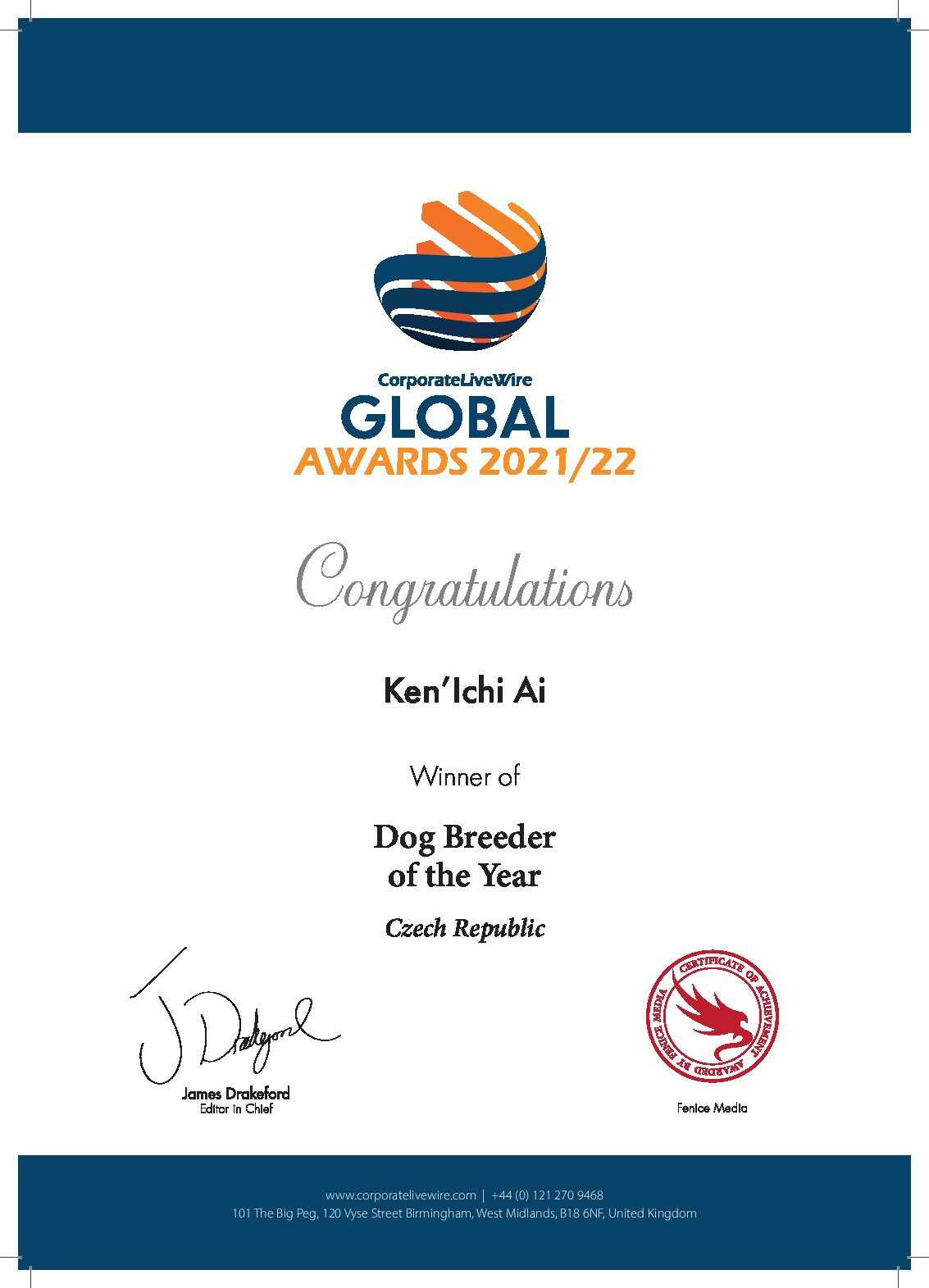 The year 2021 was very important, we were accompanied by major successes from the breeding and also from show grounds. It is very valuable for us that companies from all over the world pay attention to our persistent and thorough work.
Our Ken'Ichi Ai kennel was nominated (as first kennel from Czech republic in the whole history!) for Global Awards and we were awarded as
! WINNER OF DOG BREEDER OF THE YEAR 2021/22 !
Thank you
WE ARE VERY PROUD OF OUR AKITAS WHICH WON FOLLOWING AWARDS:
BEST IN SHOW 1st place - 3x
BEST IN SHOW 3rd place - 2x
BEST IN SHOW 4th place - 3x
JUNIOR BEST IN SHOW CHAMPION OF CHAMPIONS 1st place - 1x
JUNIOR BEST IN SHOW 1st place - 5x
JUNIOR BEST IN SHOW 2nd place - 7x
JUNIOR BEST IN SHOW 3rd place - 3x
JUNIOR BEST IN GROUP CHAMPION OF CHAMPIONS  1st place - 1x
JUNIOR BEST IN GROUP 1st place - 10x
JUNIOR BEST IN GROUP 2nd place - 1x
JUNIOR BEST IN GROUP 3rd place - 1x
BEST IN GROUP CHAMPION OF CHAMPIONS 1st place - 1x
BEST IN GROUP PUPPY CHAMPION OF CHAMPIONS 1st place - 1x
BEST IN GROUP 1st place - 8x
BEST IN GROUP 2nd place - 6x
BEST IN GROUP 3rd place - 2x
BEST IN SHOW baby 1st place- 5x
BEST IN SHOW baby 2nd place- 4x
BEST IN SHOW puppy 1st place- 2x
BEST IN SHOW puppy 2nd place- 6x
BEST IN SHOW puppy 3rd place - 2x
BEST IN GROUP puppy 1st place- 2x
BEST IN SHOW honor 1st place - 2x
BEST IN SHOW honor 2nd place - 2x
BEST IN GROUP honor 1st place - 1x
MULTI winners BIS couple a BIS br.group
BEST IN GROUP SK'20 all year cup - 1st place
BEST AKITA SK'21 all year cup - 1st place
BEST AKITA SK'20 all year cup - 1st place
BEST AKITA MALE SK'21 all year cup - 1., 2., 3rd place
BEST AKITA MALE SK'20 all year cup - 1., 2., 3rd place
BEST AKITA FEMALE SK'21 all year cup - 1.,3rd place
BEST AKITA FEMALE SK'20 all year cup - 1.,3rd place 
BEST AKITA FEMALE SK'19 all year cup - 1st place
ABSOLUTE WINNER RANKING '20
ABSOLUTE WINNER RANKING '19
WINNER RANKING AKITA MALE '20 + '19
WINNER RANKING AKITA FEMALE '20 + '19
MEIYOSHOU winner 
TOKUYUU winner - 3x
II. vice WORLD JUNIOR WINNER - 2x
vice WORLD BABY WINNER - 1x
EUROPEAN WINNER minor puppy & BOB - 1x
II.vice EUROPEAN JUNIOR WINNER - 1x
vice EUROPEAN BABY WINNER - 1x
NATIONAL winner - 33x
SPECIAL SHOW winner - 10x
CLUB winner - 21x
CLUB JUNIOR winner - 18x
GRAND PRIX SLOVAKIA winner - 10x
AUSTRIAN PUPPY winner by EUROPEAN DOG SHOW
ALPENSIEGER - 2x
ALPENJUGENDSIEGER - 3x
ELITE PUPPY WINNER - 2x
VICTORY WINNER - 7x
DANUBE WINNER - 1x
JUGEND DANUBE WINNER - 1x
JUNIOR TROPHY WINNER - 2x
SLOVAKIA WINNER - 1x
SLOVAKIA JUNIOR WINNER  - 1x
INTERNATIONAL CHAMPION (C.I.B) - 15x
INTERNATIONAL JUNIOR CHAMPION (C.I.B.-J) - 6x
CHAMPION OF BEAUTY - 76x
JUNIOR CHAMPION OF BEAUTY - 70x
PUPPY CHAMPION - 12x
CRUFT'S QUALIFICATION - 79x
Very promising  1 - 107x
Výborná 1 - 548x
CAC - 355x
CAJC - 193x
CACIB - 151x
CACIB junior - 30x
BEST OF BREED baby/puppy - 31x
BEST OF BREED junior - 117x
BEST OF BREED - 136x
BEST OF OPPOSITE SEX - 106x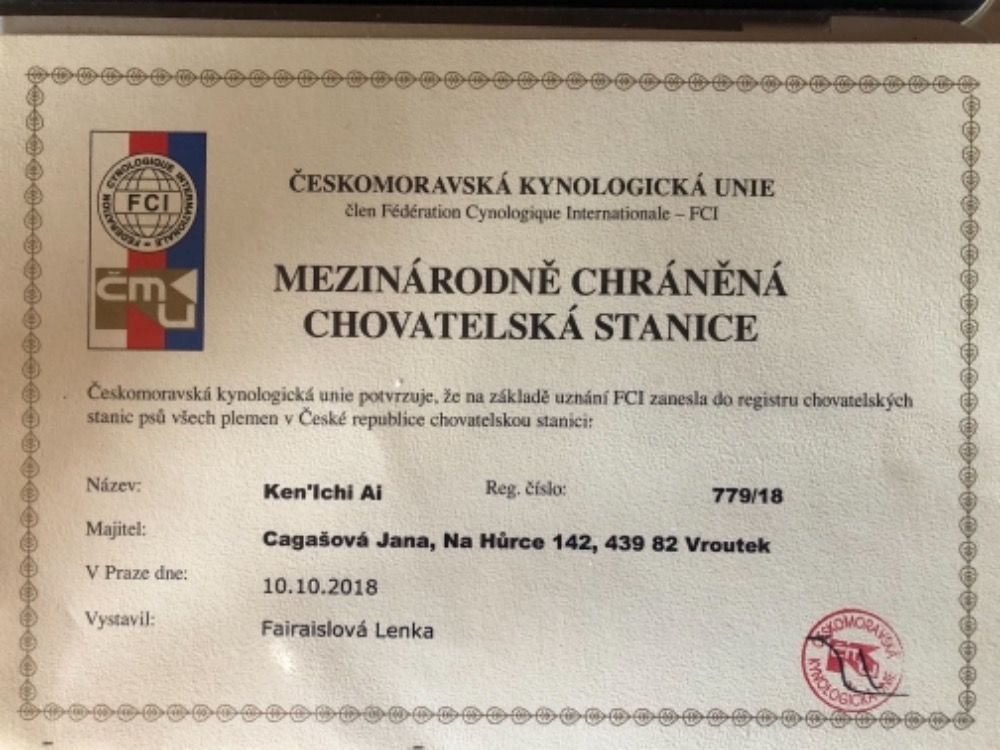 OUR KENNEL REGISTRATION - FCI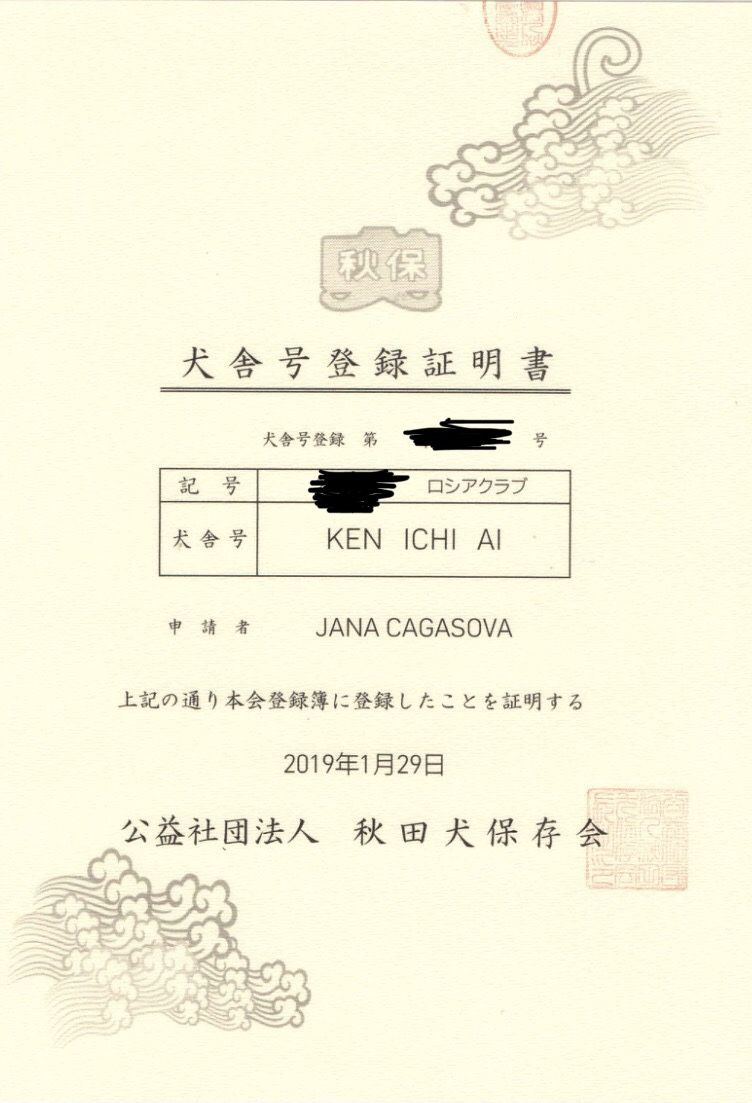 OUR KENNEL REGISTRATION - AKIHO