Ken'Ichi Ai kennel is based in the Czech Republic nearby Prague, licensed and regulated by FCI and AKIHO (in Japan).
To breed the healthiest, most vibrant puppies possible, with a placid temperament, lovely nature and the instinctive ability to become loyal and faithful companions. Our wish is for our puppies to be the perfect addition for families.
We DNA & health & genetic test our parents as part of our diligent surveillance to ensure we keep the incidence of problems in our puppies to an absolute minimum.
All of us puppies are registered in Japan and have AKIHO pedigree. All of our dogs are imported from the most advanced breeding countries for Akita breed (Japan, Spain, Italy, Russia,..). Our puppies are living with wonderful families from all over the world (USA, CZ, SK, AT, DE,..)
We ONLY breed Akitas which are health tested & all of us Akitas are excellent show dogs (MEIYOSHOU winner, TOKUYUU winners, Czech, Slovak, Swiss, Polish, Hungarian, Austrian, Italian champions, grandchampions and junior champions, Interchampions - C.I.B., multiple BOB winners, Cruft's qualificated, multiple BIS, JBIS & BIG, JBIG placements and so on,..)
We accept reservation for puppies during all year & we offer the possibility to use our stud dogs to aproved females.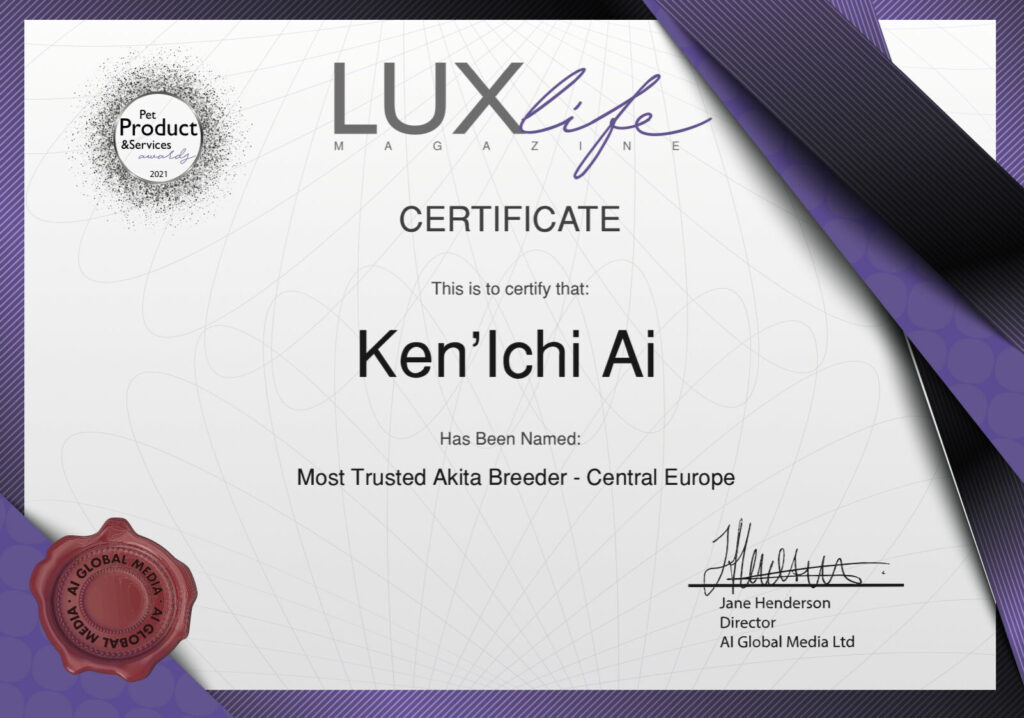 We are incredibly happy that our effort were highly rewarded.
Our Ken'Ichi Ai kennel was nominated (as first kennel from Czech republic in the whole history!) for Pet Products & Services Awards (United Kingdom) and we were awarded as
! MOST TRUSTED AKITA BREEDER - CENTRAL EUROPE !
Thank you
WE ARE VERY PROUD OF OUR AKITAS WHICH WON FOLLOWING AWARDS:
BEST IN SHOW 1st place - 3x
BEST IN SHOW 3rd place - 2x
JUNIOR BEST IN SHOW 1st place - 2x
JUNIOR BEST IN SHOW 2nd place - 1x
JUNIOR BEST IN SHOW 3rd place - 2x
JUNIOR BEST IN GROUP 1st place - 5x
BEST IN GROUP 1st place - 5x
BEST IN GROUP 2nd place - 3x
BEST IN GROUP 3rd place - 2x
BEST IN SHOW baby 1st place- 3x
BEST IN SHOW baby 2nd place- 4x
BEST IN SHOW puppy 1st place- 2x
BEST IN SHOW puppy 2nd place- 2x
BEST IN GROUP puppy 1st place- 2x
BEST IN SHOW honor 1st place - 1x
BEST IN SHOW honor 2nd place - 2x
BEST IN GROUP honor 1st place - 1x
MULTI winners BIS couple a BIS br.group
BEST IN GROUP SK'20 all year cup - 1st place
BEST AKITA SK'20 all year cup - 1st place
BEST AKITA MALE SK'20 all year cup - 1., 2., 3rd place
BEST AKITA FEMALE SK'20 all year cup - 1.,3rd place 
BEST AKITA FEMALE SK'19 all year cup - 1st place
ABSOLUTE WINNER RANKING '20
ABSOLUTE WINNER RANKING '19
WINNER RANKING AKITA MALE '20 + '19
WINNER RANKINGU AKITA FEMALE '20 + '19
MEIYOSHOU winner 
TOKUYUU winner - 3x
II. vice WORLD JUNIOR WINNER - 2x
vice WORLD BABY WINNER - 1x
NATIONAL winner - 11x
SPECIAL SHOW winner - 5x
CLUB winner - 9x
CLUB JUNIOR winner - 7x
GRAND PRIX SLOVAKIA winner - 6x
AUSTRIAN PUPPY winner by EUROPEAN DOG SHOW
ALPENSIEGER - 2x
ALPENJUGENDSIEGER - 2x
ELITE PUPPY WINNER
VICTORY WINNER - 3x
INTERNATIONAL CHAMPION (C.I.B) - 4x
CHAMPION OF BEAUTY - 38x
JUNIOR CHAMPION OF BEAUTY - 41x
PUPPY CHAMPION - 11x
CRUFT'S QUALIFICATION - 23x
Very promising  1 - 78x
Výborná 1 - 298x
CAC - 206x
CAJC - 92x
CACIB - 87x
BEST OF BREED baby/puppy - 25x
BEST OF BREED junior - 54x
BEST OF BREED - 59x
BEST OF OPPOSITE SEX - 56x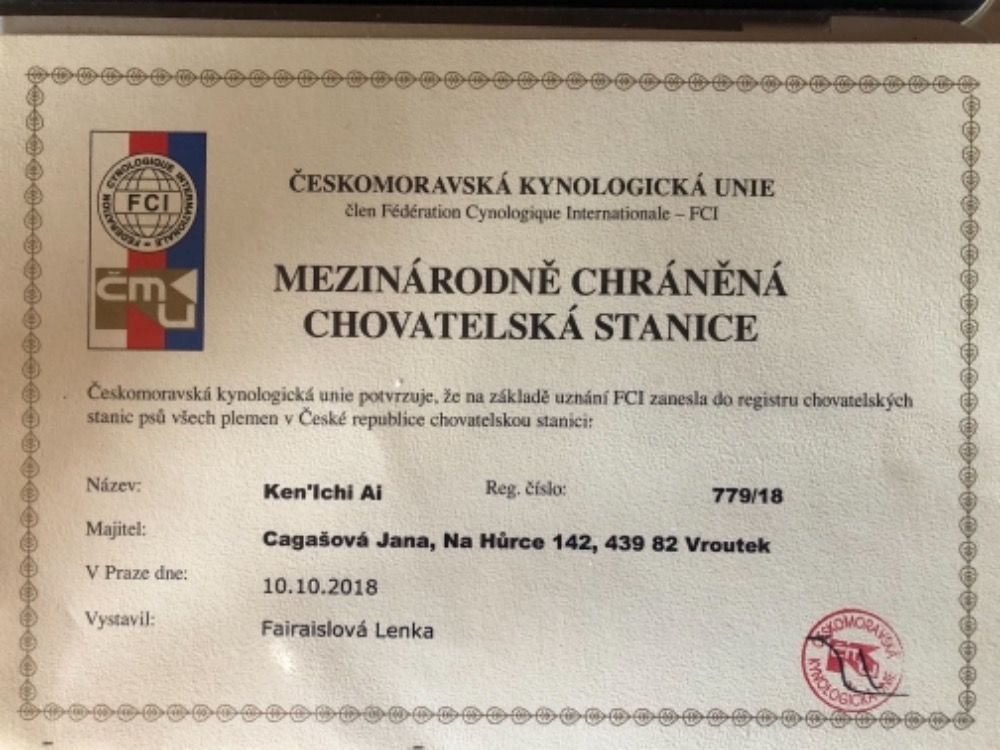 OUR KENNEL REGISTRATION - FCI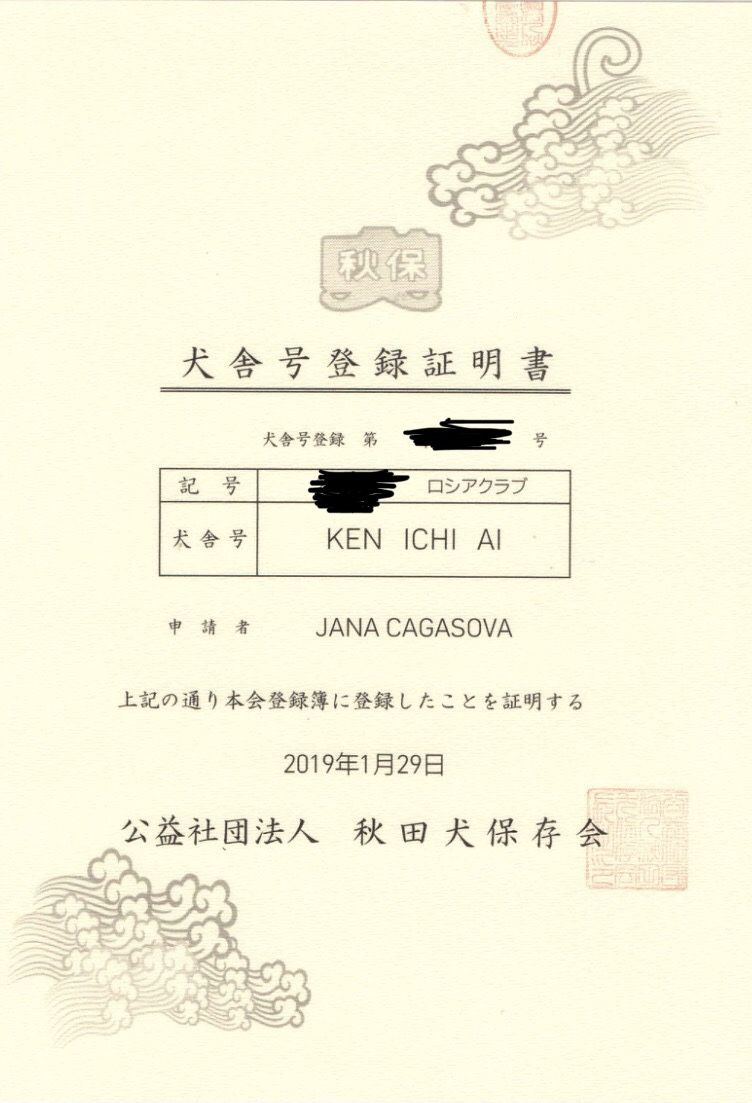 OUR KENNEL REGISTRATION - AKIHO